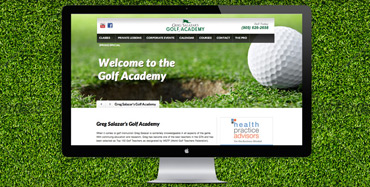 We created a logo and a website for Greg Salazar to promote his golf academy. When it comes to golf instruction Greg Salazar is extremely knowledgeable in all aspects of the game. The website showcases the different types of lessons Greg provides and alows him to create specials and sell those lessons directly on the site through paypal.
Creative promotional postcards were created to advertise Greg and his rates. Email campaigns were also created to inform exhisting clients on seasonal specials and discounts.
An achiever in everything he does,Greg is a certified professional golf instructor and was recently featured in Golf Teaching Professionals Magazine as one of the Top 100 Golf Teachers as designated by WGTF(World Golf Teachers Federation).