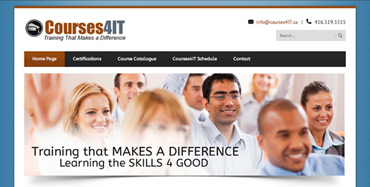 When your website goes down and everything gets erased it can be a nightmare. This is what happened to Courses4IT.
Glacier Ridge Media was able to get them back up and running in 3 weeks with a fully editable website that they could administer themselves. Add and delete courses, update schedules and keep up to date with registrations.
Users are able to search for upcoming courses for IT and certifications that Courses4IT provides. Creative and attractive email blasts were sent out to inform current learners about new courses.